First off, if you'd rather listen to this newsletter, follow this link. I'm trying something new…let me know what you think!
My attention was snagged this week by a quote that found its way into my inbox and I wondered what you might think about it:
We are, essentially, stealing from children when they are forced to train for the future instead of allowing them to play in the now. Trust in play. ( Suzanne Axelsson )
This quote spoke to me on a number of levels.
First off, I'm thinking a lot about the 'now' as I'm reading Raising Good Humans and actively cultivating my mindfulness. And, as I've been discussing with bookclub members, Magda Gerber very much wanted parents to reside in the moment with children…in caregiving moments, staying attuned and attentive: present. To stay present with themselves when watching children play and explore: noticing what our impulses are when we see children play. Just like a young baby has to work through their reflexes to gain mastery over their movements, I sometimes feel like I can see parents working through their own reflexes…to jump in, to rescue, to teach, to solve…gradually relaxing into present observers.
I was also struck by the line, trust in play. As adults, we toss around the phrase "play is children's work," but it can easy to dismiss it. There's this really beautiful scene in Seeing Infants with New Eyes where a child is playing with a very simply made wagon…well, here, take a look . Can you imagine what that child is learning? Figuring out? We already know (or think we know) how the world works: babies and toddlers are still figuring it out…and they are primed to explore their worlds, using all of their senses, to learn about it. If we're lucky, when we slow down and watch, we can see the wheels turning (forgive the pun!) And as they get older, well, I appreciate how the author of Pursuing Bad Guys puts it: "Pretend play is children's primary research method; it's how, as individuals and groups, they live into and explore the ideas and feelings they find most pressing and captivating…play is a window into children's thinking and emotional landscape. Children's pretending is rich with hints about what worries them; what frustrates them; what they long for; and what brings them joy."
I already threw out one trope about play, but here's another that I think may be a little more baked into our subconscious: child's play. What does that phrase mean to you?
[I'll wait!]
*
*
*
*
*
*
*
*
*
*
For me, it speaks of something simple, easy, perhaps not all that valuable? This brings me to the other part of the quote that got me…we steal from children when we train them for the future, rather than allowing them to play in the now. Our culture does not make it easy for us to be in the now, period. But with children?? No way! Pediatricians ask if they are sitting up and speaking yet, friends and family ask if they're walking yet, we ask ourselves 'will they be ready for the world??'. When we reside in 'what's next' it makes it harder to appreciate 'what's now' and to recognize that what's happening now is actually what's preparing children for what's next. And when we hurry children into milestones and learning, they are missing out on learning how to learn, missing out on learning that discovery is joyful, missing out on the skills they need to support their learning.
As Magda would say, slow down, and then slow down a little more. Have a little trust that children will learn what they need to learn in their own way…and on their own time…and it will be just in time.
If you're looking for a preschool that embodies that philosophy to a T, I highly recommend you check out Caterpillar Cottage in the Valley. As it happens, they have an open house tomorrow, and it's not too late to sign up to attend.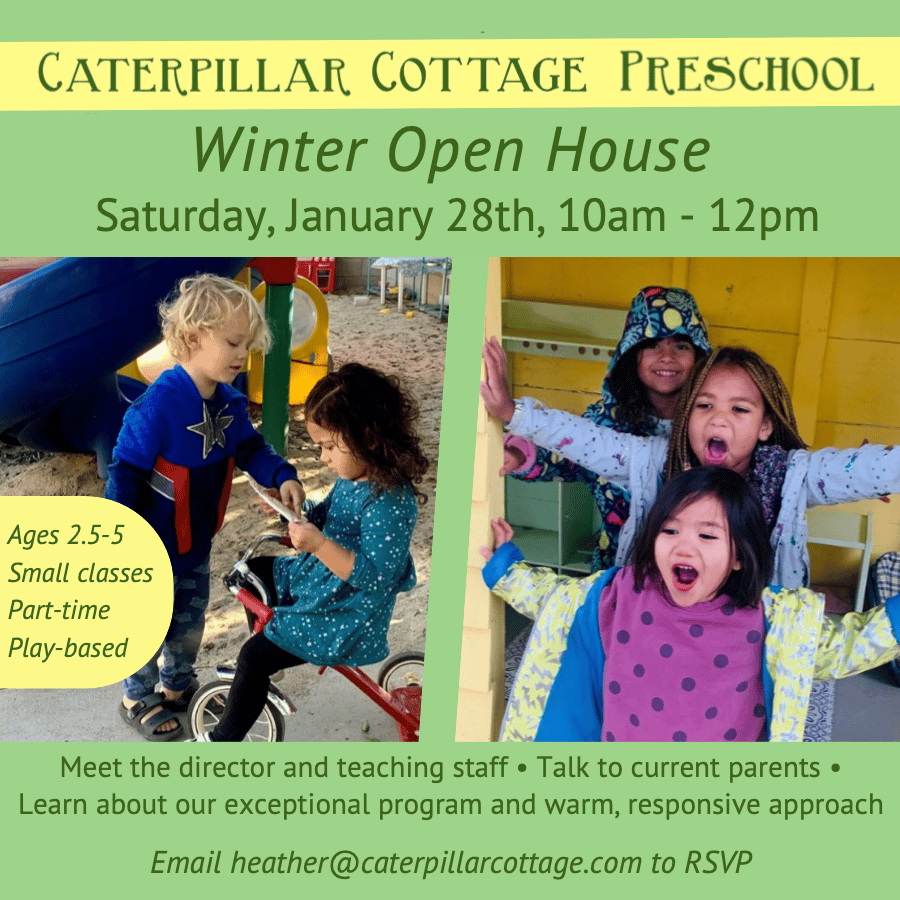 And if all of this makes sense to you because you (but not your parenting partner) can come to classes regularly, you're not alone. To help address this, I'm exploring the possibility of starting a "What's this RIE thing?" playdate. I'm still workshopping the name, but the idea is a monthly or bi-monthly class for partners, meeting on a Saturday afternoon in my RIE studio in Tarzana. It will still be for parents and children to experience together: a chance for children to play in a familiar space and for parents to learn about an unfamiliar approach to parenting (surrounded by parents who are all in the same boat). If this sounds intriguing, let me know…the first one will be sometime in February…date and time is also TBD! 😊
And if all of this makes sense to you, but you're struggling with figuring out how to make it make sense with more than one child, you're also not alone! I'm in the planning stages of developing a RIE Parents of Siblings support group. This group will just be for adults, meeting in person in my studio in Tarzana, tentatively scheduled for Sunday early afternoons. (A zoom option is also a possibility, but for parents who would like to actually leave the house, I'm starting with an in-person option!)
Thanks for playing along with my riff on that quotation today. As always, I welcome your thoughts on this newsletter!